036 - Piper Street Sound
---



American born and raised, Matthew Mansfield wanted to learn more about the origins of traditional latin music genres Champeta, Cumbia and Chicha (also known as Peruvian Cumbia), it was during this research that the music of his Piper Street Sound moniker emerged. There's a great synergy between reggae and traditional latin music, both of whose protagonists travelled from African via the Caribbean. Mansfield has forged a reputation as an innovative producer in the nu-cumbia and dub-reggae worlds, what Matt refers to as 'transnational' music. It's a quaint yet apt description and indicative of the increasingly borderless movement of musical culture.

Argentinian label ZZK Records has had a significant influence on my musical tastes over the past decade so when I found out that Matthew Mansfield who runs the label was a producer and musician in his own right I was interested to hear more. Working under his Piper Street Sound moniker Matt is a dub reggae specialist, but his music is multi cultural and traverses the sounds of Latin America as much as the Caribbean and his home lands in the Southern states.

For his Métron Musik Mixtape, Matt focuses on his own works, with original tracks, edits and remixes from the Piper Street Sound and DubConscious discography with a very deliberate focus on his Latin influences. His blend of organic sounds and traditional instrumentation with glitched synth works make for compelling listening.

I spoke to Matthew about the globalisation of music, his involvement with ZZK and AYA records and what his plans are for 2017.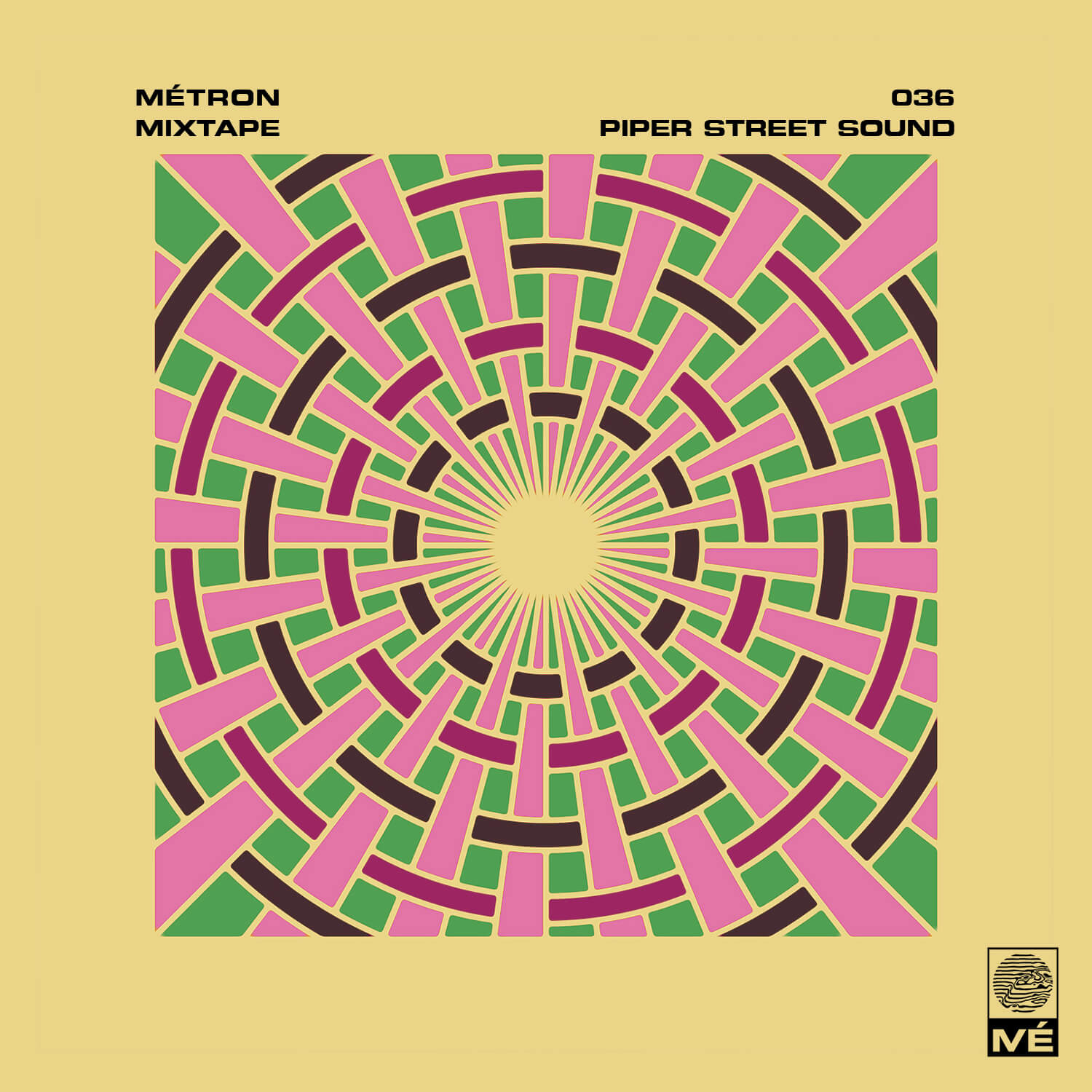 Music has obviously become much more globalised with the far reaching arms of the internet, do you feel that people have become more open to producers like yourself, working predominantly in genres where the musical culture is not necessarily linked to your geographical heritage?

I think so. The internet can be pretty faceless and I think people are using their ears more and just listening to what they like. For me, coming from the US, there is a resurfacing underlying sense of alienation from all musical traditions. I don't think there is a single style I could have chosen to produce that didn't leave me searching for the roots. Nothing is 'my own'.

I'm not of the First People. I'm standing in their geographical heritage with strings of dislocated European and African traditions tangled around me. So I felt destined to follow some strands. That search will involve stepping into areas that aren't based in my geographical heritage. I hope I'm not a colonialist; I walk softly and carry big ears. I think a lot of people from various places are in that same boat really. Sorry for the mixed metaphors.

That being said, a lot of people are feeling something else altogether. There are so many great producers and musicians who are very aware of their roots and traditions, with deep knowledge, and I am really happy to live in a time where they are standing up and sharing and shining a light on their qualities, finding their voice, moving the conversation forward and not mimicking a homogenized style. (See ZZK Film's The Nu LatAm Sound Ecuador Vol. 1-3 for a great example of this.)

Side note: Though Reggae isn't directly linked to the South of the United States, it isn't too far removed from Blues, Jazz, Soul, RnB and Funk which I grew up surrounded by. New Orleans and Memphis had a big influence on the development of Ska, Rocksteady and Reggae and so when I hear those musics there is a lot I can relate to. I'm a bassist, and how am I supposed to hear a huge dub bass line and not want to play that? I just move towards what moves me musically. I'm captivated by grooves. I tend to hear connections in music, across genres and geographical regions: things that unite and tie together. Personally I'm not claiming anything for my own or stating it as authentic and I study the music I love really hard.

When did dub reggae become the main focus of your musical output?

It started taking over when I was 19. That was 2001. I had for years been exposed to Ska and Rocksteady, and Punk had turned me on to the Two Tone scene and some Reggae stuff, but it really took over my existence after I started getting into King Tubby, Lee Perry, Augustus Pablo and also more modern Dub producers like Bill Laswell. I started learning to play Reggae bass lines and began to dig into the underlying structures of the music. I found drummers that could play or be taught Reggae rhythms and along with that process I began to explore sound effects: delays, reverbs, etc. applied to live instruments. Then I gradually built a home studio and explored recording techniques initially on a 4 track tape machine and mini disc and later a computer. I played with several Dub bands in the Atlanta area and then toured for years with a band called DubConscious. That was a huge lesson in live Dub mixing, setting up in different venues each night with a large band and mixing all the effects on the fly.

I'm a huge fan of ZZK, and AYA records, for the uninitiated who might be reading this, can you tell us a bit about those labels and your involvement?

ZZK Records has been around for about a decade. It was founded by DJ Nim, Villa Diamante and El G (aka Grant C. Dull who is the label head), and the label grew out of a dance party called Zizek in Buenos Aires, pushing a combination of electronic sounds, heavy bass, and folkloric elements from South America, and initially there was a big emphasis on electronic Cumbia, which ZZK dubbed Cumbia Digital. There were always other styles in the mix too. Notably, Tremor was using other folkloric sounds besides Cumbia. Chancha Via Circuito also moved into new areas with his second album Rio Arriba. Eventually most artists on the label started incorporating many other sets of rhythms and styles. So now the sound ZZK is pushing is beyond Cumbia Digital. Also over the years the label expanded from being an Argentinian thing to something spanning all of Latin America with artists like Animal Chuki from Peru and Nicola Cruz from Ecuador. AYA is a new imprint of ZZK Records focused on contemporary Latin American musical expressions. This imprint allows us to move outside of electronic dance sounds and into more live bands. We're really excited about this new territory.

Go to the website and take a look:
http://ayarecords.net/

Go to the bandcamp and have a listen:
https://ayarecords.bandcamp.com/

Watch these films from ZZK Films to learn more about the artists on AYA and their context:

The Nu LatAm Sound Ecuador Episode 1 - The Amazon Voices
The Nu LatAm Sound Ecuador Episode 2 - The Rhythm of the Coast
The Nu LatAm Sound Ecuador Episode 3 - The Andes Sounds

My involvement with ZZK goes back to 2011 when I booked Chancha Via Circuito and El G for a couple of shows in Atlanta, and I also had Chancha remix a song I produced for DubConscious. I was really feeling the stuff ZZK was doing and was searching for styles that allowed me to use my roots in Dub but that were fresh and new to me. Since then I stayed in touch with Grant and started collaborating with the label on digital content management, social media, and setting up a merch store. In 2015 I started working officially for the label. It's great to go from being a fan to working with one of my favorite labels. Since the birth of my daughter in 2012 I've focused mainly on my home studio and my family; I stopped touring and playing shows for the most part, and managing the label has been a great way for me to stay involved in music I love while learning a great deal. ZZK and AYA are big inspirations for my own music productions as well and I'm doing more mastering and such for the label releases these days. It's a good combination of challenges to build my skills. I think I'm officially a jack of all trades now for the label.

Anything exciting planned for 2017?

For ZZK and AYA: yes, we've got a lot happening. Grant is super motivated and always moving onto the next thing he wants to do. ZZK Films is a big focus now. We just met our goal on a fantastically successful crowdfunding campaign which put a lot of wind in our sails and will allow us to continue making films. We also have some great music releases coming too. I don't want to give too much away, but I can say it's all fire.

For Piper Street Sound: I'm working on a new website (with the multi-talented Santiago Ferreira of Santi & Tugce) which will put a focus on my production and Dub engineering services, recording, mixing and mastering. I've got new productions in the work too: some Roots Reggae from Jamaican artist Asante Amen, an EP of Dub remixes featuring Ghanian master musicians recorded by Justin Butler (head of Boom One Records), and an album of live analog Dub remixes. I'm working with Andres Oddone on something really special which I can't say much about. And if I find the time I'll have a new EP of electronic music ready too.

Can you recommend to us a few records that we should check out, perhaps some things we might have missed?

Besides telling you to check out everything ZZK and AYA released in the last year I'll focus on some Dub related releases since that really is my focus. I don't know what you might have missed, but let me just shout out some stuff I'm loving right now. Errol Brown's Orthodox Dub (reissued by Dubstore Records) is a great example of classic Jamaican Dub mixing by someone other than the more known Dub specializing engineers like King Tubby or Scientist. Check it out. Dubstore has a fantastic stream of music coming out now, and their bandcamp is a treasure trove.

Another classic era Dub release that is less known, which I love, is King Tubby Meets Jacob Miller Inna Tenement Yard (Motion Records reissued this). This album features Bernard 'Touter' Harvey playing analog synths as King Tubby Dub mixes. A bonus is Augustus Pablo (the melodica guru) on xylophone! Really great. Trojan's Dub Massive Chapters 1 and 2 mixed by Bill Laswell is another favorite, a more modern Dub take on classic 70's recordings. This is not a definitive list of Dub albums you should listen to, just some that came to my mind.

As for some stuff I'd recommend that came out more recently, I loved 1000 Watts by Quantic Presenta Flowering Inferno. Also Dub de Gaita Vol. 1-3 by Los Gaiteros de San Jacinto is great. Thanks to Nicola Cruz for telling me to go buy that record. It's on Llorona Records in collaboration with Zam Zam Sounds. Stay tuned for new things from Diego Gómez, the guy behind Llorona. He's doing amazing things. Canal Dub just releases a single by Santi & Tugce with a Dub B side by Piper Street Sound. I probably should have included it on this mix, but maybe next time.

Outside of Dub: Frente Bolivarista, Tropical Twista, Shika Shika and Regional are all labels that keep releasing music I love. Producers/Musicians that come to mind: Quixosis, Santi & Tugce, Uji, Dandara and ÌFÉ.

Tracklist
Piper Street All-Stars - Blood Is Not On My Melodica
Quantic - Chambacú (feat. Flowering Inferno) [Dub]
DubConscious - Alpha (Fourth dimension dub) by Chancha Via Circuito
DubConscious - Inna Different Light (Piper Street Sound Edit)
Piper Street Sound - MonoChordalCumbia
Piper Street Sound - ZikaZikaZika
Mateo Kingman - Sendero del Monte (Dandara Remix) [Piper Street Sound Dub Edit]